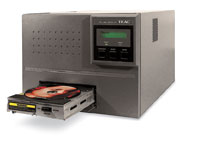 Teac P55 Dye Sublimation Thermal Re-Transfer Printer offers both manual and automated direct-to-disc printing. The Teac P55 CD DVD printer is available on MF Digital Print Stations as well as our Scribe 9000 Duplicator, Scribe Commercial Duplicators and Director Publishers . Thanks to its quality CMYK printing, the P55 Printer brings the highest quality prints to in-house CD and DVD Printer applications.
The revolutionary Teac P-55 CMYK thermal printing technology ushers in a new era of affordable, high quality CD/DVD media printing, producing professional photo quality labels that are truly unmatched.
The Teac P55 Professional Dye Sublimation CMYK Photo-Quality 400 DPI Print Resolution produces high quality retransfer thermal prints directly onto discs . The P55 has redefined the industry standard with this dye sub printer.
The discs, once printed, are water repellent, scratch-proof, and UV-protected, eliminating the need to laminate the disc! The P55 offers the highest in-house print quality available today.