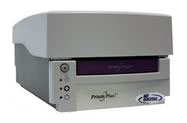 Prism Plus DVD CD - Thermal Transfer Printer. MF Digital's Prism Plus CD DVD Thermal Printer offers both manual and automated direct-to-disc printing.
Prism Plus printer is available on other Print Stations as well as our Scribe 9000 Duplicator, Scribe Commercial Duplicators and Director Publishers. Thanks to its speedy thermal printing, the Prism Plus Thermal Printer brings cost effective printing to in-house CD and DVD Printer applications.
Advanced Prism Plus Features Include:
Economical

Thermal print technology provides the lowest cost-per-print for CD DVD printing applications.

On-Demand

Thermal transfer printing is an ideal solution for On-Demand printing and labeling with unprecedented speed.

Professional Images

Thermal transfer images are water proof and scratch proof providing crisp, clear text and images.

Durable

The Prism Plus is rugged and durable for 24 / 7 operation in the most demanding of print environments.

Automation Support

The Prism Plus is 100% compatible with autoloader print stations, publishers and duplicators.