The Director line has a model to fit your needs. We now offer 2 platforms. The Office Desktop 2 Drive BD, DVD CD Publishers and the PRO 4 Drive BD, CD DVD Publisher Duplicators. Select the model that fits your needs.
Both of these advanced systems offer 300 disc capacity, a built-in PC, reliable 24/7 operation, API for custom integration, and license-free network client software. With MF Digital's automated duplicators, you simply connect a Keyboard, Video and Mouse and you are now ready to enjoy the full power of a Microsoft XP based duplication system which can be accessed from any desktop PC. MF Digital provides our exclusive and license free client software for remote job submission, control of multiple duplicators and job status.
The Director CD DVD publishers produce discs upon receiving local or remote burning requests. This optical disc manufacturing equipment features automatic editing of print jobs, unlimited job queuing, and production unique one off disc publishing for distribution. The result is unprecedented CD on demand CD publishing production equipment with unparalleled cost efficiencies for networks of any size for every software producer.
Coupled with this is the MF Digital advantage - brought to you by the industry leader in duplication products. With best in class support throughout the US and Europe, the Director 2000 Series makes perfect sense.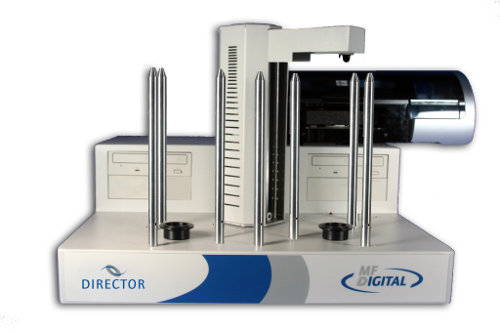 Bullet Points
Turn-key fully integrated built-in PC
2 or 4 Drive DVD CD Publishing system
300 Disc Capacity
Inkjet, Thermal or Dye Sub Printer Options
System engineered for 24/7 operation
License free network client software
Advanced Text Based API for custom integration


Download Director Brochure