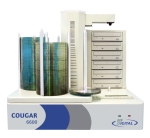 The Cougar represents a single high volume 6 drive BD, DVD CD duplicator with integrated Windows Pro OS. Hi-Speed Industrial Asynchronous Standalone, expandable 6 drive BD, CD DVD Duplicator with Network control.
Designed for high volume the Cougar is cost effective and ships with unlimited network client support for a powerful, flexible and expandable system. Cougar is designed, developed and manufactured in the USA with worldwide support.
Cougar BD CD DVD Duplicator Key Features:
Made in the USA - Utilizing modern cast aluminum lightweight chassis
Industrial Design:

Hi-Speed industrial stepper motors mean 24/7 production

Asynchronous Duplication:

Independent drives allow instant start duplication – No waiting for all drives to load

Large Disc Capacity :
Disc Types :

120 mm, 80mm Round, 61 & 63mm Biz Card

Standalone Operation:

Simple keypad operation - No PC required

Massive Storage :

Huge 500GB hard drive (Add keyboard, monitor and mouse to access local and unlimited network image storage)

Unlimited Network Clients:

1Gbps Ethernet port with free Windows client software. Control any number of Cougars from any PC on the network using our Network Command Centre software

Job Broadcast :

Remotely Launch jobs to networked Cougars

Relay Mode :

Load multiple masters and blanks at once to run multiple duplication jobs in succession

Smart Spindle Select:

Load CD and DVD media. Cougar will select media based on image submitted

Shake Disc :

Separates sticky media for trouble free disc feeding

Reject Bin :

Separate reject bin to collect bad media

Blu-ray Option :

Blu-Ray upgrade path available

Support :

Free lifetime software maintenance including software and firmware upgrades
Robotics Operation:
Hi-speed 24/7 operation:

Able to perform constantly 24 hours a day, 7 days a week without fear of overheating with quick reliable robotic operation.

Friendly Interface:

All job functions and system alerts operate in an easy to use manner with simple keypad control

Proven Technology

In business over 30 years and designed and manufactured in the USA our systems are renowned for their stability, performance and reliability.